A new era was about to burst forth on the long-suffering congregation with the arrival of the Reverend James Laine as the new pastor in October, 1974. Laine's charismatic personality and Charismatic spirituality brought a revival to the Castle Shannon church that surpassed any other time period of its 75 year history. While the membership did not grow substantially, the weekly attendance averaged over 180 and the church began to rapidly expand its facilities and ministries. A Wednesday evening "Prayer and Praise" service was added. In 1975, the adjoining house and property, 3638 Poplar Ave., were purchased to be used as Sunday school rooms and office space. The building was named Gilson Hall in honor of the longest serving pastor. As the pastor's duties mounted, a lay assistant pastor, Carl Weeks, was hired. And in 1976, a nationally known Christian TV celebrity, Ben Kinchlow of the "700 Club," visited our humble church and spoke at two events during a weekend.

Rev. James Laine
Unfortunately, this growth spurt was to be short lived. After only three years, in May of 1977, Laine chose to move on, founding his own nondenominational church, Faith Community, just a few miles away. This drew about 48 members away with him and, again, as so often in the past, we began a search for a new pastor. But the ministries begun and the spirituality awakened by Laine's time here have survived to the present even though many members have come and gone.
A new pastor was called in February of 1978. Reverend Jack M. High came and was given Gilson Hall as a manse. Jack Edgar was later added in the position of Assistant to the Pastor.
| | | |
| --- | --- | --- |
| Rev. Jack High | | Rev. Jack Edgar |
Our beautiful pipe organ, purchased in the 1920's, finally gave up the ghost and the Session purchased its first electronic organ. As the church expanded and the expense of repairs was growing on the flat roof of the Fellowship Hall, plans were made to add a second story to it. Unfortunately, the cost and other factors stalled these plans for several years. Finally, in the fall of 1983, a three phase building program was begun with the erection of the addition over the Fellowship Hall at a cost of $14,000. This shell would be completed by the men and women of the church over the next year and a half. Rooms included a pastor's study, a larger secretary's office, a choir room, class rooms and restroom facilities. With these new rooms, the costs had risen to over $30,000. By December, phase one and two had melded together as plans went forward to totally remodel the sanctuary as well. This project would extend into the summer of 1985 when the sanctuary was gutted and remodeled. The carpentry work was done for $8400, while the new furnishings ran over $15,000. In September, the new interior was unveiled on Rally Day as the Congregation marched in together to view the work for the first time. Phase three would not get off the drawing board until 1997.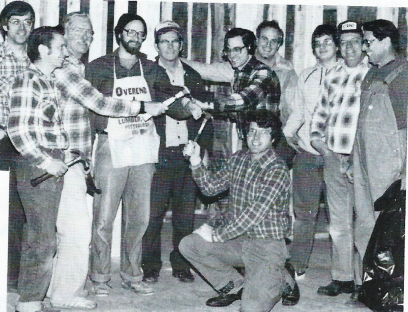 Volunteer Work Crew: Phil Wilson, John Evanski, George Paul,
Edd Hale, Bob Macintosh, Barry Johnson, Gary Schmidt, Paul Schmidt,
Cal Hale. Kneeling: Ed Urian
In 1985, Pittsburgh's steel industry was in its death throes and unemployment was reaching levels unknown for decades. Our church set two Sundays to take an additional offering that would go to the needy families. This was a cooperative effort that was led by the Presbytery. Additions to our staff during this time included honoring the Reverend Mahard with the position of pastor emeritus in 1984 and the hiring of a student intern pastor, Craig Kephart, in September of 1985. His duties were to assist with Prayer and Praise on Wednesdays and to teach a Sunday school class for adults. Also, when needed, he would fill the pulpit. Little did he know that that responsibility was soon to grow to nearly full time.
In December, 1985, Jack High resigned. Since he and his family had been living in the manse and would soon vacate it, Session realized that the high cost of maintenance and utilities of the manse would become a burden on the church. Consequently, the decision was made to temporarily winterize the home and postpone a final decision on its future until later. Before this could occur, a family within our Congregation requested to rent the manse. This was approved and they occupied the house in June. Kephart became the "temporary supply pastor" although he was still a student. Reverend Mahard acted as moderator. The search was on, yet again, for a new pastor.
In the fall of 1986, our Evangelism Committee made a huge effort to reach the whole community when it visited 400 area homes leaving questionnaires and booklets. Fifty questionnaires were returned. Finally, in March, 1987, Reverend Fred Soberg was called as our new pastor to begin June 15. That summer, Reverend Craig Kephart moved on to become the pastor at the Venice Presbyterian Church in McDonald, Pa and subsequently Executive Presbyter of the Washington Presbytery.
| | | |
| --- | --- | --- |
| Rev. Craig Kephart | | Rev. Fred Soberg |
More remodeling occurred in 1989. The Fellowship Hall was spruced up with drywall and storage areas added plus a new ceiling and lighting for $12,000. A part time youth pastor was added in 1991. Tom Swan worked diligently to develop a program to attract the youth of our community to Christ. Tom moved on in 1995. The youth program continued under the leadership of Jami Hale Conn and then under Lauren Connolly Moore. That ministry continues today under the leadership of Karl Shaley.
In 1996, the manse, Gilson Hall, was sold for $28,000 after it had fallen into disrepair from years of neglect because of lack of funding. The proceeds were used to jumpstart a new building program.
The one hundred year anniversary of First Presbyterian Church of Castle Shannon was celebrated in 1998 and the church was rededicated following extensive remodeling of the entrance, bathrooms and classrooms that same year. The celebration banquet was attended by over 150 current and former members and pastors. A plaque was affixed on the wall of the new entrance way. The following year the sanctuary was painted.
In 2009, after 22 years, Dr. Soberg's pastorate with our church, the second longest in our history, came to an end. For the second time the church hired a student pastor, Scott Shetter, in March 2010, to act as a temporary supply pastor until a new pastor could be found. After screening several candidates, the committee recommended that, upon his graduation from seminary and ordination, Mr. Shetter would be offered the position. Our current pastor, the Reverend Scott Shetter, was ordained and installed in October 2011and installed to a full pastorate in October 2013.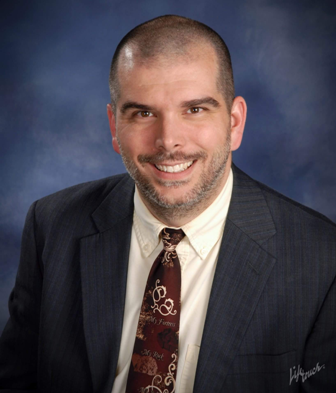 Rev. Scott Shetter
The first decade and a half of the new century has witnessed our congregation being involved in numerous outreaches and programs in our community and beyond. For example, one of our youth, Erica Young, along with Ellie Huebner, traveled to Russia on a mission trip partly supported by the congregation. Another of our members, Matthew Hale, along with his wife, Beverly, moved to Detroit to start an inner city ministry as members of the international organization Navigators. They too are supported through our Mission giving. In 2006, after Hurricane Katrina wreaked havoc throughout the Gulf Coast area, our church twice sent volunteers to Gautier, Mississippi. Under the direction of the PCUSA, they cleaned up, painted, plastered, rebuilt, and did whatever they could to help families that had been devastated by the storm. Our annual Christmas Day dinner which delivers meals to those in need and serves others who walk in, has been reaching 350 or more people. This Christmas meal has been served now for 20 years. Members have also given of their time to take young people to visit nursing homes and to serve meals to the homeless at Light of Life Mission. An active jail ministry regularly visits the county prison. The Men's Ministry has continued for nearly two decades reaching out to men in our community and serving the church by performing various tasks when needed. In 2013, for instance, the men poured part of a new sidewalk in front of the church. Our Mission and Outreach committee has for several years participated in the Castle Shannon Borough Community day handing out free water and free prayers where needed! And our successful Vacation Bible School continues each summer touching children from all around our community.
Among the numerous building projects undertaken in this time were a new retaining wall and sidewalk, stained glass window repairs, rebuilding the alley storage area, and a new furnace and A/C in the Fellowship Hall, among others. The single largest project completed since 2000 was the addition of our church parking lot in 2003. While this project was filled with many ups and downs along the way, its completion has served our congregation wonderfully. Another major renovation undertaken in 2013 was a new roof for the nearly 30 year old rear addition. These two items alone cost the church over $70,000.
But the real story of our church home is its people and their unending faith, hard work and love of the Lord. While the "official" records may not necessarily have expressed it, the spirit and mission of the founders has continued to burn in our hearts. With God's blessing may we pass it on for the generations to come.